Some Notes About the Set:
We didn't get God Doom in this set and we are never going to. We didn't get Doom with the combined powers of the Iron Fist, the Starbrand, the Sorceror Supreme, and the Spirit of Vengence. We'll never see him either. We also won't ever see Universe creatin' Reed or Franklin Richards. We did get three of the Avengers B.C.. So at least that's something. I've been hoping to see them for a while now.
The power level of the set is high with at least 3 (probably more) good choices for new tent pole characters to build around in today's meta. (see entries 1,2 and 3 on the list below for examples)
The Battleworld Keywords were poorly done. Nick the Fury and Big Boss Hill should definitely not share a named Battleworld keyword.
The Baron Traits are even more powerful than the Headmaster traits from the X-men set. On the flip side, any character with a Battleworld keyword has a hidden weakness to opposing Barons. If you come up against a baron that can apply the -2 modifier to your best figure, then you will lose a large majority of those games.
The uncommons are where it's at for this set. If you've only got a little bit to spend on this set, I would recommend picking up those. You'll be happy with what you get.
Okay! Now on to some…
HONORABLE MENTIONS:
15) SWB015 Molly Hayes (25 points)- For 25 points she has trait stealth, occasional sidestep, 4 starting damage, 5 clicks of health (all with toughness), a damage value that doesn't go below 3, and 18 starting defense. She is deadly on every click. I have seen her embarrass other figures more than 4 times her cost. Her weaknesses are her movement value and her inability to push. Thankfully these are weaknesses you can compensate for. Any taxi will usually be enough to help you get the most out of her. However, she may also be the answer to Heroclix's greatest question. "Now that we have all of these vehicles in modern, who should we use to pilot them?" A simple AIG005 Dune Buggy will remove all of her weaknesses and both figures together cost a total of 55 points.
14) SWB006 Sheriff Steve Rogers (50 points)- I have to admit that I expect big things from Sheriff Steve and I haven't seen them yet in tournament results. His special power states, "NO ONE IS ABOVE THE LAW: Leadership. When Sheriff Steve Rogers or an adjacent friendly character is attacked, the attacker cannot positively modify or replace their attack value." Which essentially boils down to your figures with Energy Shield (including him) being well nigh unhittable with ranged attacks. With the right team build that could make Sheriff Steve essentially the new version of JW066 Bizarro Green Arrow.
13) SWB030 Stick (45 points)- For 45 points you get 5 clicks of pretty decent close combat powers and stats. He's got Close Combat Expert and Combat Reflexes on every click as well as steady combat values. But the real reason to play him is for what he can do to help other close combat pieces. He's got starting Empower and a trait that allows someone who missed a close attack roll to make a close combat attack once as a free action. What you might not realize when you first read him is that the character that missed doesn't need to use that free attack immediately. You can save it up for whenever it's needed most.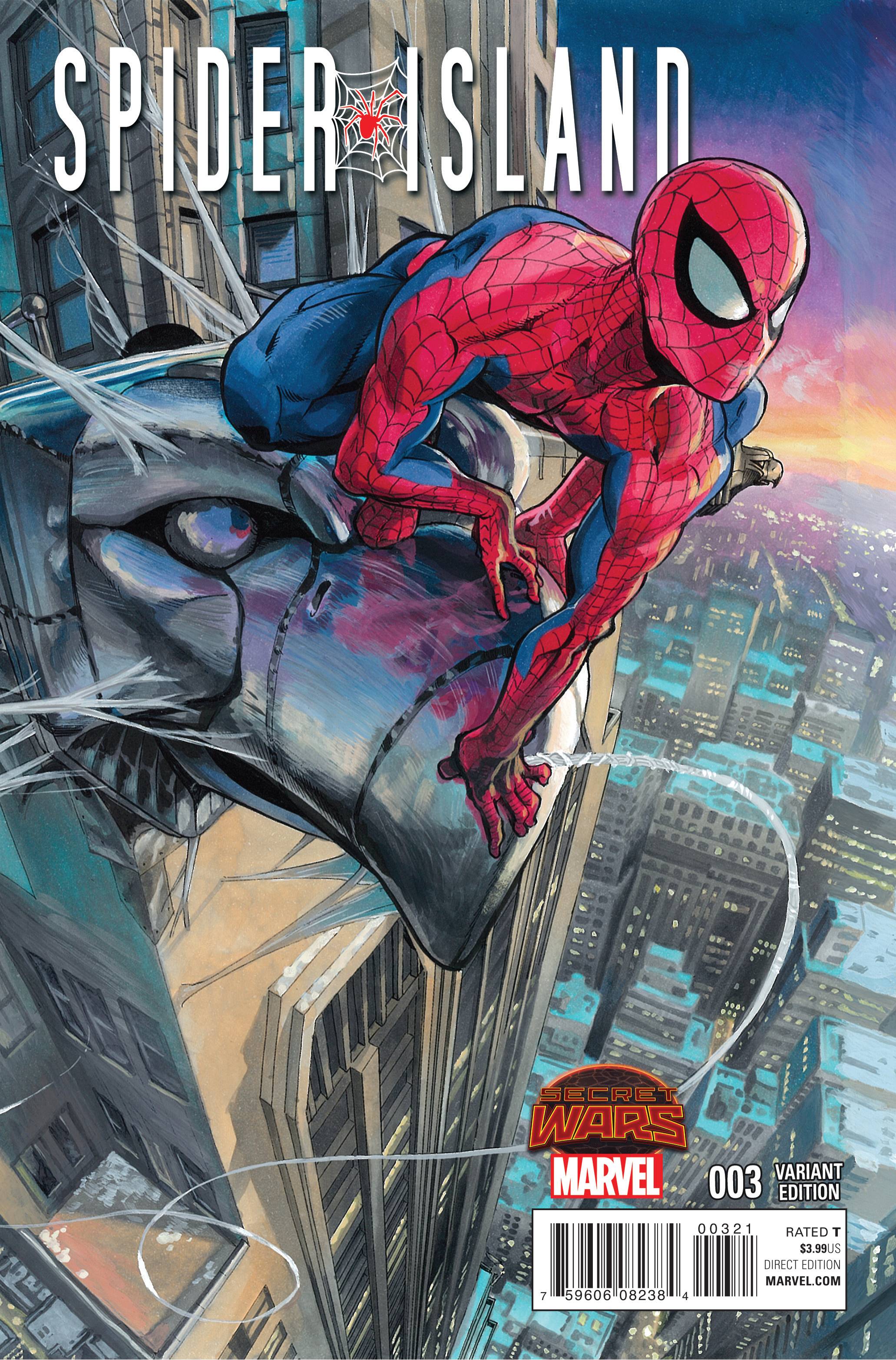 12) SWB018 Spider-Man (70 points)- It's the same Spiderman Dial we've been getting for years. Charge, Super Senses, 18 defense, 6 Range, Spider-man TA, etc… Only this one has starting outwit along with full dial perplex and full dial leadership. He's a 50 point support piece melded with your typical Spider-man dial and still only costs 70 points. Sure he does have a trait that says he can't move or attack the first two turns of the game, but I find that typically doesn't make a huge difference in most games. His lack of willpower is the only thing keeping him out of the top 10 and I'm wondering if that that was a mistake.
11) SWB022 Ultimate Thor (125 points)- What can I say I love the ability to see through stealth and I really love the even rarer ability to use outwit on a character hiding in stealth. Beyond that he's got steady attack and damage values, the wonderful crack the case trait, and damage reducers his whole dial. You could also plan a nice team around his 100 point value and the ability that point level gets to teleport to other Thors. It all depends on what you need, but both point values are good.
10) SWB044 Witch Hunter Angela (45 points)- There are 2 constants you are going to see at competitive modern tournaments: ID Cards and Colossal Retaliation. Witch Hunter Angela (and to a lesser extent SWB040 Spiderling) is Wiz Kids silver bullet for Colossal Retaliation. Her trait reads: "THE WITCHBREED SUMMON MORE FOUL MONSTROSITIES: Witch Hunter Angela and other friendly characters within 4 squares modify attack +2 when attacking characters with [Colossal symbol] or the monster keyword. Witch Hunter Angela and other friendly characters within 4 squares modify defense +2 when being attacked by characters with [Colossal symbol] or the monster keyword." That boils down to +2 defense against Colossal Retaliation and +2 attack against them to make sure they they won't live to make a second attack. Beyond that she's a standard Charge/Blades piece that's cheap enough to fit on a lot of teams and still have plenty of points for a main and secondary attacker.
9) SWB023B She-Hulk (130 points)- Similar to SWB018 Spider-Man this is the typical She Hulk piece that we've seen several times before, but with several support powers thrown in and still a reasonable point cost. She has starting Empower and Enhancement to go along with her full dial Perplex and Leadership. Unlike Spider-man she does have some cool new tricks that we haven't seen a She-Hulk come with before. She has full dial plasticity (which is always great on any close combat piece) and a 19 starting defense which combos well with her perplex. Additionally, she has a steady attack value and a neat trick where figures next to her can't use Shape Change, Mastermind, or Stealth.
8)  SWB028 Maestro (175 points)- He's like a slightly bigger badder version of She-Hulk. He's got the same leadership, perplex, and 19 starting defense. He's got full dial steal energy. He should be very tough to KO because of his damage reducers, dial length, and steal energy. And at the end of his dial he's got the ability to make multiple attacks and even attack while double token-ed, so just when you think you are finally going KO him he'll start healing again. If you don't outwit you're in trouble.
7) SWB065 Agamotto (170 points)- He's got starting 12 attack, 19 defense, and 4 damage. He can see through stealth, he's got a power cosmic TA, and his Probability control can hit you anywhere on the board. He's a great ranged attacker who should do quite well for you as long as you can keep him out of close combat. Make sure to team him up with ADW035 Dr. Strange for token removal and let the mystical fun commence. (Side Note: I can't ever see myself using this guy at his 90 point line. If it were 60 points that would be more appropriate.)
6) SWB055 Dino-Thor (90 points)- It's hard to believe this guy is only 90 points, but I guess with a negative trait and no damage reducers it somehow still works out in the points system. His starting click powers just work really well together. He has 12 movement with Hypersonic Speed. So he can move 12, make a close combat attack, and then use his special power SCALES OF JUSTICE to give an adjacent opposing character -1 to all stats and greatly reduce their ability to fight back. When he does finally get hurt his combination of steal energy and regeneration should quickly get him back in fighting shape.
5) SWB031 Alex Wilder (25 points)- This guy hasn't caught on yet, but I think that's only a matter of time. For 25 points he's great on almost any team. He's got traited Stealth, traited Shape Change, occasional Sidestep and a Special Power that reads, "SEVERAL STEPS AHEAD OF YOU, YOU JUST DON'T KNOW IT: FREE: An opponent chooses two: Outwit, Perplex, Probability Control. Alex Wilder can use the chosen powers until your next turn." Generally that special power translates in him having perplex and prob control most turns. That's great for a 25 point character. There is a problem of the opponent gaining control of Alex when he is a KOed, but with proper planning you should be ready for that and essentially turn that into 25 easy to score points followed by you getting your figure back.
4) SWB063E Sheriff Strange (50 Points)- At 50 points he's the cheapest Baron in the set and he shares the Battleworld: Other keyword with a lot of the best figures in the set. He's not a primary or secondary attacker, but he can do decent damage at range if you line things up correctly. He's really more of a Taxi/Support piece. He does have a stop click and he's the only figure in the Battleworld set with Mystics TA. (Side Note: does anyone else think the Mystics TA is getting really rare now? Not even Morgan Le Fay has it in this set.) I believe you can definitely get 50 points worth of use out of him for everything I mentioned so far, but he's also the silver bullet for ID cards. His trait reads "THE WALLS OF BATTLEWORLD MUST REMAIN INVIOLATE: Opposing characters must use a DOUBLE POWER action instead of POWER action to activate ID cards." That won't stop your opponent from completely using ID cards, but it will slow them down a lot! (Side Note: Sheriff Strange works great with SWB007B Thanos. He can give Thanos a lift and +2 to one of his stats before Thanos has killed anyone. That first kill is always the hardest.)
3) SWB056 Witch Queen Le Fay (150 points)- In a competitive scene where perplex is rampant and even built into arguably the top character (TMT058R Uni-Mind) there is definitely a place for someone like Witch Queen Le Fay. Her Weirdworld trait says, "UNTAMED WEIRDNESS: Opposing characters' combat values, except range, can't be modified when attacking Witch Queen Le Fay or being attacked by Witch Queen Le Fay." It's true that she can still have her values perplexed down, but I find myself doing that a lot less often than I use perplex on my own figures. Beyond that she has a Special White Power the likes of which we have never seen before. "IT'S NOT YOUR MYSTIC DRAGON, ARKON: [Wing] symbol. Witch Queen Le Fay can use all standard speed powers except Earthbound/Neutralized and Stealth. When she misses any target of an attack, after resolutions she can't use this special power for the rest of the game." The available combinations boggle the mind. Plasticity to break away, then sidestep, then running shot, then pulse wave with knock back thanks to force blast. How about sidestep, charge, and flurry? Lots of options to explore.
2) SWB061 Black Panther (150 points)- For 150 points he doesn't have a bad click… because any click he's on can be whatever you want it to be. His very first click makes him a defensive powerhouse. I would recommend adding the symbiote on him to make him even harder to damage. With the symbiote on his first click he would have Impervious, Shape Change, Super Senses, and probability control all while being immune to both Pulse Wave and Outwit. That sounds like a giant headache to go up against. On offense you'll be attacking with the Hypersonic Speed on click 1 most of the time. 11 attack (backed up by probability control), and 4 damage are a great Power/Stat combo for a 150 point character.
1) SWB007B Thanos (175 points)- This should have been a nearly unobtainable SR Prime, but instead it was the common prime that is much more obtainable. Thank you Wizkids for the early Christmas present. His dial is 8 clicks long with reducers the whole dial and the Power Cosmic TA to make sure opponents have to go through those reducers the hard way. He can pick any generic keyword during force construction for easy team building. He also has a cool Special Probability Control that states, "TRAVEL BACK IN TIME TO TRY AGAIN: Probability Control. When Thanos uses it to target an attack that would have hit Thanos and it misses him (after all rerolling), generate a [SW: B] #007a Thanos Duplicate on the click #1 that appears after the orange KO. This game, it has a 0 point value for all effects (including scoring)." I don't think Thanos duplicates are that great, but they are well worth 0 points. I'll take that deal every time it's offered. What really makes him great is his ability to upgrade himself. Every time he KOs a character (including his own) of 25 points or more he gets a gem token. His trait states, "ONE STONE AWAY FROM THE INFINITE: FREE: Modify X different combat values of Thanos +2 until your next turn, where X is the number of his Infinity tokens." He starts with lowish Stats for a 175 point character, but adding +2 to even a couple of those stats makes him real crazy very quickly and that's why he's the best character in this set.